ANNOUNCEMENTS
Substance Abuse Awareness Poster Contest
The Knights of Columbus, South Plainfield Council, #6203, awarded two first place prizes for their annual Substance Abuse Awareness Poster Contest. Children in age groups 8-11 and 12-14 were given a choice to choose between Alcohol Awareness and Abuse or Drug Awareness and Abuse for the poster contest entry.
In age group 8-11, Gabriella Cicenia won first place in the Drug Awareness Category and in age group 8-11, Samantha Kolesar won first place in the Alcohol Awareness Category. Both winners were presented with a $50.00 check from the Knights of Columbus at their March 20, 2018 meeting. After receiving their first place prizes, both Gabriella and explained to the audience why they chose their design for the posters. Both students received a very hearty applause from the audience. Also in attendance were Gabriella's and Samantha's families.
The contest judging was done by Knights of Columbus Family Director, Tom Walsh, South Plainfield Board of Education Member, Debbie Boyle and South Plainfield Police Officer, Michael Sikanowicz, who is South Plainfield Police Department's L.E.A.D. (formerly called D.A.R.E) officer.
The Knights of Columbus would like to thank all the students and judges who participated in this year's poster contest.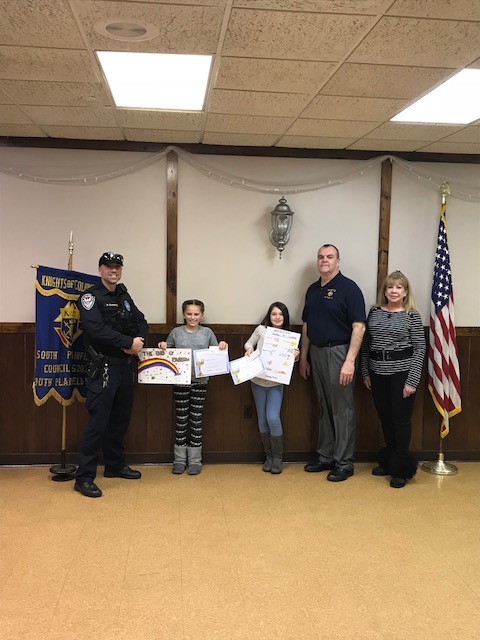 L to R: SPPD Officer Michael Sikanowicz, winner Gabriella Cicenia and Samantha Kolesar, Tom Walsh from the Knights of Columbus, and Debbie Boyle from South Plainfield Board of Education.